---
New
DrumsOnTheWeb.com
Contests! ...

Your chance to win FREE stuff!
---
Drummers Centerfold
Legend to Legend
Your favorite artists get the inside beat on some of their favorite artists!
Dony Wynn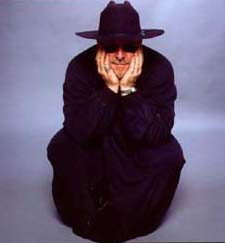 takes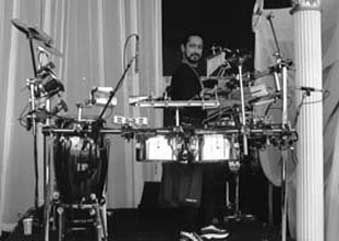 Jose Rossy ... Online!
Well, well, well........,
Has been a most interesting time editing this piece. I have purposely left the "look" of the piece in the way it was transmitted, ie: instant message, e-mail, chat room, etc., etc. Given this is an online project it will be true to form to leave it in the multimedia vein. Also, have done some spelling corrections but left most as was. I feel it properly gives you, the reader, the way Jose' talks. Much cooler this way. I like interspersing some of our casual conversations into the interview as well which gives you a feel for our relationship as well as getting to know Jose' Rossy the person, and not just the musician he is. As talented as the fucker is....
Anyway, hope you enjoy it. Here it is......
Note from Pam : The fun of interviews such as this is getting together with buddies that you have known for half your life... and really getting to know them. (Even though there were actually several thousand miles between Jose', Dony & I, it felt that we were just hangin' in the bus, ... rollin' to the next gig. So, if you've ever wondered what these guys do on those long stretches between gigs... wonder no more!). Jose' is currently out on a US tour with Patti LaBelle (be sure to catch the PBS special with Patti & Jose'... I was there for the live taping and the show was GREAT!) and Dony is out with Brooks and Dunn live on an arena tour until the end of this year. Dony also has a new album coming out with Robert Palmer entitled "Woke Up Laughing" October 6th, a compilation for Metro Blue label of all of their ethnic forays (and incidentally, he shot the front cover photo) and is working at present on an album with Moon Martin. Dony is also in the studio producing a couple of new artists; Nick Riggins for Sony (of which he is also a member of the band. Dark scary hillbilly stuff reminiscent of "The Band".) Another artist named Avery Michaels whom he will shop for his new company, The GMW Group, when completed. (Whew! These guys tire me out just writing their current news!!)
I know that I have said this before... but I just gotta say it again... If you have never experienced listening to and watching drummers / percussionists exchanging thoughts on music... I highly recommend this encounter to you!
Jose' Rossy Online Interview,

the only way to go.................
You have just entered room "Conundrum Chat93"
Dony - i am here
Pam - me, too! Jose' is on his way
Pam - hi ya!!!!
Dony - where is that malongo?
Pam - now we get to test Jose's typing skills! (he's here)
Pam - type something in the bottom box, Jose', and hit send
Jose' - I am right here.
Pam - YEAAAAAA
Jose' - I am slow typing so be gentle.
Dony - hey padnah
Dony - i always am gentle you know that!
Jose' - Let's talk drums
Pam - you guys get started... I have to throw something in the microwave
Dony - we shall talk about many things my fine feathered friend
Jose' - Lets start with when we met Malango
Dony - naw, this is my interview. you are subject to me tonight
Dony - you ready?
Jose' - OOOOO SShit
Dony - uh-huh
Jose' - Let's go
Pam - <could get rough>
Jose' - Its OK.
Pam - ok
Dony - jose', when do you lose your virginity and why?
Pam - LOLOLOL
Pam - :-) this is gonna be a good one!!!
Jose' - I was 8, because our maid taught me
Dony - ...no shit, she wanted to teach?
Dony - and were you the eager student?
Jose' - Si
Dony - wow, hellatious my brother. malongo kudos once again!!!
Dony - ...what is your favorite color and who are your fave clothing designers?
Jose' - Red, Is a spanish thing.
Dony - do you notice a correlation between what you are wearing and the attitude it brings over you
Jose' - When i play i like to look colorful
Dony - does it bring out a certain attitude for you. make you cocky, for instance?
Dony - or confident, maybe?
Dony - i notice most really good drummers are good dressers as well. i know it definitely affects the way i play
Jose' - Yes for some reason when i wear bright colors makes me feel more syncopated. Is like I can play and add different timbres of tones to what i hear
Dony - aha, what i thought, by the way, ... jose' is a fantastic dresser
Dony - Jose', i know when i eat pork, 3 hours before i play, i am more in the pocket
Dony - what are your favorite foods and what do you like to eat before you play?
Dony - and do you think it affects your playing?
Jose' - I remember you telling me you didn't want to lose weight for that reason
Dony - indeed, changes the pocket
Jose' - Are you talkin about food?
Dony - ...yes
Jose' - Pork, and lots of rice and beans
Dony - do different foods before playing affect your pocket differently? and why do you think they do?
Jose' - I sound wimpy with salads, yes they affect me
Dony - i agree
Dony - when did you have the moment of supreme clarity that you were destined to be a percussionist?
Jose' - What are you wearing?
Dony - Calvins, boxer undies, you know me
Jose' - I went to the beach with my parents and met this elder person and he had a vision.
Dony - tell me about it
Jose' - I was walkin in the sand and he called me over to him and said "you are going far away to be famous." I asked doing what, then he described me playing drums
Dony - really, fascinating. did you get a drum the next day or what?!
Pam - <how old were you?>
Jose' - At the time I was playing clarinet with my hometown band. I was 9.
Dony - i know I heard a fats domino record when 3 and mom and dad got me a drum the next day, never looked back
Dony - What age did you get your first drum?
Jose' - I told my teacher I wanted to play drums and he gave me rudiments to practice
Jose' - 9 years old
Dony - How did you get started in realizing your dreams, getting off the island for example. not an easy task
(*"the island" is otherwise known as Puerto Rico*)
Dony - joining bands etc.
Jose' - I was in college studying arquitecture (sic) and playing around town Then it hit me to take it serious and audition for the concervatory. after being there 1 year I won a scholarship
Dony - so that was the first stepping stone for your percussive career?
Dony - you were compelled?
Jose' - You didn't let me finish
Dony - sorry, my brother, go ahead
Jose' - I study with the timpanist of The Pablo Casals orch. He told me that I had a future but I already knew that. I moved to new york in 1975 to study with Fred Hinger
Dony - you never told me any of this
Jose' - I got the YOB
Dony - aha
Jose' - I have soundcheck to go to, my brother, then i will be free later to continue
Dony - cool
Dony - give bud, patti, crock, at., hell everyone my love
Pam - have a good night, Jose... we'll talk tomorrow!
Jose' - God bless you. I'll talk to you tomorrow. I love this. Bye Pam
Dony - good deal. have a helluva gig
Jose' - Thanks
---
.....next day......
Dony - Jose', who has had major impact on your life? Who has influenced you? I want you to include people from all walks of life not necessarily drummers. And tell me why and how each influenced you? But you can include drummers, too. After all, this is for a drumming magazine, HA!
Jose' - My father is a big influence because he is very determined. That keeps me trying to get better on everything i do. I know what i have and who i am, and never think that i can't do something because anything is possible. I can handle any situation. From early age i kind of pushed myself to do better in school and everything else.
My music teacher is very important to me because he saw something in me and for that reason let me try anything like, different instruments, because, it was kind of easy for me to pickup, for example a clarinet, trumpet, sax, snare drum and learn the basics of the instrument. I started playing clarinet and played in the marching band for about a year. Then I had a car accident and my lips and the whole position of my teeth and mouth weren't the same. So I started playing snare drum. after learning to read music while playing reeds, i had to start my rudiments and technique. It wasn't easy but i was playing drums in the garage since a young age. He really molded me and helped so much that i got accepted in the Pablo Casals Concervatory.
A few drummers I listened to when i was younger are Tony Williams, Buddy Miles, Bellson, Tito Puente, there are so many different styles and attitudes about playing, that I learned to get inside all this different approaches of a simple 4/4. You know what I mean.
I grew up listening to latin music, but I always added some other groove to it, because I heard all this different approaches and made it interesting.
Jose' - Classical composers also challenged me, like Mozart, Bach, Bartok, to name a few.
Dony - bartok, now there's some percussive nightmares!
---
(*Dony & Jose' are now using AOL's instant message feature for real-time conversation*)
Jose' - Dony, remember that i am learning this gadget now and i am a little slow
Dony - rome was not built in a day
Jose' - OK. you are right. I went to a Zone
Dony - yeah, it is good
Jose' - Thanks my brother
Jose' - Sounds good , Malango
Herb is here and says hello. (*Herb is Patti LaBelles guitarist*)
Dony - tell herbie to get a small chihuahua on acid up his butt
Jose' / (Herb) - Are you still wearing your Calvins with Brooks and Dunn?
Jose' - That was Herb.....
Dony - Herbie baby!!!!!!!!!! who loves you?????!!!!!!
i still wear my calvins, herbie. was wearing them when i first started interviewing jose' the other evening. he asked me what i was wearing. man cain't lie!!!!
Dony - Jose', have you ever met any of your drumming idols? Tell me which one you enjoyed the most and why. And which did you like the least, and why?
Jose' - wasn't fortunate to meet some of the drummers I listened to when I was growing up in the island, but I did meet Tito, and he was a very positive experience as a person. I was playing a Hotel (house band) gig and he came, I think he was playing in Puerto Rico. We talk, not too long but, it was when I was trying to absorb everything, you know.
One year I went to Michigan to the Interlocken music camp and I met Peter Erskine, he was 19, and playing with Stan Kenton. Of course Peter wasn't a name yet but well on his way. I saw him when I was with Weather Report and talk to him about it. There have been so many drummer friends I've met that is hard to pick every little experience. When I was in the Concervatory in Puerto Rico, Alex Acuna was in the percussion ensemble at the school also. He was incredible already. We saw each other once in a while on different places and stuff. He's always been very supportive of me. He is a very peaceful human being. I have nothing but respect for so many drummers, it's hard not to forget a few.
Let me tell you about you.
When I finally worked with you it felt like a trip around the world. I was consumed with so much joy and freedom making music with you and the whole adventure that I heard all kinds of different ways to approach Robert's (Palmer) music. You have the biggest Pocket in the world, my friend. Thanks for being part of my life experience.
Omar Hakim is another friend that knowing it's being a pleasure, his playing and serenity inspire me so much. When we play with Weather Report was definitely an experience not easy to forget. Zawinul is an incredible leader that knows how to extract the best moods and creativity out of his ensemble, and being part of that was a very important part of my life. Omar and I were very tight creating our parts. There are so many people that touch my life and my professional life that is hard to remember every detail.
I am working now with Patti Labelle, who I know for 22 years. She is the first artist I worked with when I came from Puerto Rico. It's being incredible. Bud Ellison is one of the most talented conductors I've ever met. I owe to them my introduction to this business in the USA. We are still having fun and making good music. I'm still learning a lot working with them. In that band was Eddie Martines, Carmine Rojas, Tony Thompson, Rev Batts and Bud Ellison. It was a great band.
I have been very lucky to have worked with the best.
My friend, I am Fried. Let's continue with the next question later today.
I-Malango
---
....next day...
(*Dony & Jose' are now using emails*)
Dony - It wasn't til I got involved with the Mondo Pingus project that I became aware of the serious discipline regarding Latin Music, ie:song, songo, etc. Who schooled you on all these different rhythms and specifically, I know you have classical training, how did you find a way to meld all these teachings under one roof. Do you draw from them in everything you do? And briefly explain all the different Latin rhythms, keyword, briefly.
Jose' - When I was growing up my teacher Herman Pena had a latin orchestra. They used to practice at my parents house. In a couple of occasions they will call me to practice with them and I actually did some gigs with them. They were a very typical orchestra and listening to the rhythms and melodies you couldn't help analyzing what was going on. It really helped me with syncopation, phrasing and how to listen to this type of sounds. Then I played with various groups in my area and you keep feeling the music more and more. So Herman Pena was the most complete teacher I had, because from the marching band to Latin music, it was a lot in between.
Then at the conservatory, I was introduced to classical music. Working in Puerto Rico, I did Hotels, local bands, etc... Then I joined The Symphony Orchestra. So, I am exploring another world. That helped my reading skills. I found myself studying 8 hours a day for Jury exams. I really enjoyed those days.
Then after 3 years of Symphony work and The Hotels I moved to New York. My only audition was Labelle in 1976. When I got there they had Timpanis, Marimbas, glockenspeil, and of course Congas, Timbales, Bongos and a drum set. I had to play everything. From one to the other. It was fun, but I was nervous. Bud Ellison asked me if I can read. So that was a big plus for the audition.
After I got hired I had to figure out what to play that was me playing. So I started listening to the music and found all these spaces where I could go in and out and paint a picture on a picture. I guess the classical training had me hearing things different. Mixing Melodies on mallets and adding sounds like the congas and everything else including Timpanis helped me be myself on the percussion little island that I call my set up. I don't look for these sounds, they just come to me and I communicate them to space.
Latin rhythms are hard to explain with words because is how they sound. Some latin dance rhythms have origins from Africa and were adopted in the Caribbean. To briefly explain all the latin rhythms would take the rest of this interview.
I can tell you about some of the rhythms beginning with the 'SON'. It is the predominant musical force in Cuban song and dance. It's also the most influential element in popular latin dance music. A lot of the other rhythms like gua-guanco, rumba, mambo, cha-cha, songo, Mozambique, etc., are driven by the SON, especially by the clave which is 3/2 or 2/3.
This is the pattern that rules in latin popular music. Actually, it's the pulse of latin music and everything works around it. There is a RUMBA clave and a SON clave. One example is on gua-guacno. It has a 2/3 clave and is played opposite of the gua-guanco rhythm when played on the tumbadoras. Some people might play -with - the rhythm because it's the clave, but it's really played on the opposite side. Get it?"
---
(*back to AOL's instant message feature for real-time conversation*)
Jose' - I like this
Jose' - I am feeling strong baby
Dony - groovy, me too. it allows us a certain freedom to get our thoughts out coherently. and we are in totally different locales utilizing space age technology. Glad to hear you are on top of your game, my brother.
Jose' - You are a heck of a writer.
Dony - like i said , take your time and be thorough. the readers want to know what makes jose' tick!
Dony - we gonna kick booty with this one
Jose' - You got it
Jose' - I hope Booda is OK. (*booda is Dony's rottweiler*)
Jose' - You have to see my Bear
Dony - your akita? can't wait. they are super dogs. very intelligent and graceful
Jose' - That's my baby
Dony - what is the name?
Jose' - Bear
Dony - oh really, that is one of boodas many nicknames. too cool.
---
(*back to emails*)
Dony - Ever since I saw you and Omar Hakim working together in Weather Report, I became a huge fan of both of your playing. Imagine my surprise when our guitarist, and fellow Malongo Brother, Eduardo Martinez, told me that he knew you well when we were looking for a new percussionist for Robert Palmer's tour and new record. I can't tell you how privileged I am to have played with you on those projects. And guess what?! We have only scratched the surface! But one thing I wanted to include in this expose' on you is, we gave you, what I would consider, an awesome, herculean challenge. You didn't even flinch when we told you what we wanted to do with your talents. Blew me away. For you readers, we had Jose', not only playing percussion with his hands, we had two trigger pedals which he utilized triggering samples we had created on the record. He was doing all things at once, and in many cases in totally different time signatures all at the same time. Like having four different percussionists working in tandem. On that tour, Jose and I book ended Robert at the front of the stage. I guess you could say he was digging our action. But, to the question. How did you feel inside when we posed this task to you? And what mechanics did you put into place to pull this off? Describe your feelings and your approach to accomplish this feat as brilliantly as you did...
Jose' - I feel very honored to have been a part of the 1991 Robert Palmer tour and the recording of Honey. I was especially inspired working next to one of the best drummers on the planet and my buddy, Eddie Martinez, guitarist extraordinaire.
When I first agreed to do the tour, I had no idea what was in store for me as a percussionist. I heard parts from past records, but I was sure there was more than one take for the percussion parts.
I remember being in Miami rehearsing. You and Robert were throwing parts at me that were essential to what we were trying to say. It sounded impossible to do. But instead of analyzing it too much, I just listened and put the parts together like a puzzle at first. I went back to my hotel room, and in my mind made one long statement of each song. Then a statement of the whole show. I couldn't think and sub-divide in my mind because I would be wasting time by doing that. Instead, I looked at it as one picture and everything fell into place and became a groove. I couldn't start thinking if it was 3/4 or 4/4 or 7/4 or whatever. It was just one long statement. One thing that really helped me was having you at my side. You gave me the biggest pocket I've ever heard and felt. I grew a lot by taking this particular journey. The other advantage to the creativity was that Robert gave me a lot of freedom and knew somehow that I would pull it off. Everyone did. Between the artistic freedom I was given and the confidence from everyone around me, I just pulled it off. Simple!
Dony - Interesting, Jose', how you established a mental picture that superseded all your other training and learning, and of course, thank you for the complimentary words, but I am most curious how you made the transition so easily from playing percussion with your hands, that is physically adapting to playing, not only these weird ass rhythms with both hands, but feet as well, and most of the time simultaneous. Must have been a huge physical adjustment, but once again, you never faltered or blinked. Tell the readers how you approached this tall order.
---
At this juncture the interview ground to a halt while we both were traveling extensively. Jose' will eventually answer the question posed above. In the meantime, here is some of our correspondence which transpired after the above question, and before the next answer.
Jose' is a free spirit and must be given room to find his head. He eventually did....
(*back to AOL's instant message feature for real-time conversation*)
Dony - hey padnah, what's kicking?
Jose' - Yo! This is Jose' Ha!
Jose' - I am working on your thing, my brother
Dony - please tell me you fuckers are going to chow down at victors.(*PaTTI AND CO. were in Miami*) was there last week and put a serious hurtin on myself
Dony - are y'all going to pensacola on this run?
Jose' - No
Dony - found a place to eat that will blow your mind. best fried chicken on the planet
Jose' - Clear water after Miami on thursday
Dony - i will forward the info on it then for when you do go. it will blow your mind. I didn't eat for two days after i went there. ate my body weight in fried chicken, black eyed peas and cornbread, squash casserole, etc, etc.
Dony - AND regarding the physicality QUESTION, i was more interested in your approach to using your feet which i haven't seen many percussionists do, as a matter of fact never seen anyone but you do. that was the thrust of the last question
Jose' - Is hard to put in words the way I hear how to play the different time signatures, but I think I got it.
Dony - great, my best to everyone out there, you know who they are
Jose' - O.K.
---
........NEXT DAY.....
Jose' - Hola mi hermano. How are you?
I'll be in a better frame of mind tomorrow in Boston. I will be able to get into the beef of things. And it will be done.
How are you?
Dony - hello, my malongo brethren. just got into portland maine from a brief pleasure stay in tampa. tired as shit, cannot find a drink anywhere. looking forward to your reply. understand the difficulties, get to it when you can. Might want to contact pam to fill her in, know what i mean?
Jose' - Yes I'll talk to Pam. Things are looking better. I know I'll have things done before you know it. Thanks for being so understanding.
Dony - good on you, my brother, would there be any other way? get back with me with the new answers and we will pick up where we left off as if not a day had passed. after those questions have been answered we are literally in the home stretch, you savvy?
Dony - must get to sleep. am pooped. get back with me when you got the answers together and we will proceed
Dony - g'night and God bless
Jose' - You know what? You are very understanding and the kind of human that only by knowing you is just a pleasure to be your friend
God Bless you
Dony - sleep well, my brother.....
Jose' - Thanks
---
(*back to emails)
Pam,
After he gets the last one answered we are literally in the homestretch.
So, hang on sloopy, sloopy hang on!
White knuckled and fearless, I am still.....
Dony
ps- wrote this note to you on the airplane at about 35,000 feet, flying from Tampa to Maine and I am here in Maine this evening and just got an IM from him, ...he seems to have his house in order, says we will be back on schedule. Will keep you updated and will keep on chooglin'. Of that you can be assured.
---
.......Jose' found his head.......told you he would.........
Jose' - It was a challenge to not just play the parts with my hands, but when I needed to complete the statement that was required, my feet was all I had left. Balance was very important, I didn't want to fall, Ha. Ha . I heard the parts, but I had to decide which foot to use for each particular pattern. once I knew how to divide the parts between my feet to complement the whole statement, I had to listen to each part by themself and then when I put it together slow and going over and over the parts it became mechanical, if you will. Then I had to make it flow.
That's when I composed my contribution to Robert's Adventure. That's what I meant when I answer this question before. It became a long statement in my mind. It was a work out.
All this happened very fast because I didn't have a lot of time.
Thank God I have the talent to hear things and able to reproduce and add to it according to what's needed.
---
(*the next emails*)
Dony - Every drummer has their own pocket, their own feel; of course with Robert's music that was an ever evolving issue per song, per night! But I have seen you play with Omar, and I have felt your work with both Robert and Patti LaBelle, and Omar and I have two completely different pockets. On that note I am always amazed how the really great percussionist adapts to all these different styles and drummers, seamlessly meshing in. What is the secret to locking in with the drummers feel and time. Is it visual? Mental? Please educate us uninformed well meaning timekeepers of every ilk.
Jose' - I can't think of how I lock in with different drummers, but I'll tell you how I feel in different situations. When I listen to a drummer I don't listen to him. I am hearing a bigger situation. By that i mean the song or a song, with a band or no band. By the time we are playing together I am already locked to the drummer, by listening, mantaining visual contact and mentally glued to any situation.
By watching the drummer you can see the face, and almost predict where is going.
By listening you can feel often where the next line is going to be.
---
(*and the next emails*)
Dony - Jose', I know that I rarely find the time these days for bonin' up on my chops, not to mention I somehow retain my fluidity and to be honest, I prefer the moment when either the red light comes on or the curtain is lifted, so practicing for me is a bit of a bore. The last time I can remember actually sitting down to retrain my mind and body is when I was introduced to Latin rhythms, rhythms my Western trained mind and body did not want to accept. It was a watershed moment. My questions to you are thus, do you practice anymore? And if you do, are there specific warmups or methods, and if so what are they? Also, when was the last watershed moment in your life that made you go back to school again? Tell me....
Jose' - At the end of my last answer I wrote Thank God for my talent, I meant to say
I thank God for my talent.....but to answer your question, .......
It's hard to find the time to be totally relaxed willing to sit down and practice. The reason is when on the road, the time you spent in your hotel room, you need to get some sleep, return phone calls, etc... The only time I get to stretch and play, not counting show time, is at sound check.
I rarely find time to do rudiments, but when I do, I have this paradidle that's a little different. I take the paradidle and accent every three strokes. I do them on my pillow.
But the truth is that on stage is when I create the most and that means I try different things and keeps me in shape.
About going back to school, When I joined Labelle in 1976 I was taking lessons with Fred Hinger. He told me to see him after I came back from tours so he can help me get rid of bad habits. Technique, etc... I did, and then I got so busy, I didn't see him as often as I wanted to.
When I joined Weather Report was like going back to school, it was very different and challenging. I played concertina, steel drums and it was new to me. The same happened with Robert Palmer, because the music needing all those rhythms I played with hands and feet and everything else, was a different experience.
For practicing sake, what i do is take the paraddidle and place an accent on every three strokes.
Ok. This is the best way i can let you see what it looks like.
---

I hope this explains it.
---
(*the next email*)
Dony - With the advent of triggering and sampling I foresee the percussionist playing a much more vital role within a bands framework. I mean, why would you hire background vocalists, keyboardists, guitarists, when you could hire a percussionist who has all these tools literally at his fingertips. Tour overhead is neatly trimmed, not to mention a percussionist is more fun to watch to boot! I know on the '91 tour you did with Robert Palmer you were triggering an array of sounds taken directly from the record and stored in our Akai, but was mainly percussion sounds. How do you feel about this? Do you foresee a percussionists role greatly expanding? And what could you recommend to the younger players to fulfill this role, their manifest destiny?
---
Time passes.................
Again, we are still both traveling and so we pass the time with idle chit chat. This chit chat will give you, the reader, some idea of our friendship which was very important in the way we meshed our styles together. An unspoken communication. Dig? It also will give you insight into a traveling musician and their day at hand......
Jose' - Hey Malango
Dony - what the fuck?
Jose' - I just checked in. How are you?
Dony - in indiana this morning answering some mail. watching a nascar race on tv. hungry like a mothe!
Jose' - We had an interesting morning. My room wasn't ready until 12:00 noon. We got here at 3 am
Dony - ouch, hope you like your bunk
Jose' - I was in bed in my bunk but still a pain in the ass. how are you?
Dony - i love my bunk. we usually travel overnight right after the gig. I sleep in, usually get up around 9 or so, they have our keys and day sheets on the table in the middle of the bus. come in and get online, answer mail and goof. have the day to ourselves in whatever town we are in. dig it this way
Dony - and things with me are rocking mightily, thank you for asking. My new company, the gmw group, is up and running. have signed two artists, one of which looks to ink a deal with sony in the next 30 days, i will be producing as well. looking at a girl pop artist and developing a new female country artist too. no rest for the wicked
Jose' - You are Bad!!!!!!!!!!!!!!!!!
I'll love to here some of that
Jose' - Oops!!! hear
Dony - where are you guys today?
Jose' - I am waiting for my bag
We are in Myrtle Beach
Jose' - A beautiful resort
I have a condo
Dony - ahhhhh, a groovy place. good seafood there
Jose' - I am going to cook my ass off
Dony - slow talkin' women too, as i recall
Jose' - They are thick
Jose' - gotta get some groceries, i'll talk to you later
Dony - indeed, give my best to bud.
Jose' - ok. I'll tell him
have a great show
Dony - you too
Jose' - Thanks
Dony - bye for now. ...... God is good. be humble don't stumble
---
Jose' disappears into cooking and myrtle beach for a few days.......... typical malongo behavior........
(*back to emails)
..............Jose'? Jose'? Wherefore art thou, Jose'?
Dony
---
Jose' - I really enjoyed using samples. With the pads and trigger pedals it becomes a whole different way of creating texture and colors. Opens so many ways of looking at what I can do to enhance the statement I want to make as a Percussionist with percussion sounds. Now, when if we talk about other sounds and instruments, for example, guitar sounds, keyboard chords, etc.... I know there is a way to orchestrate and layer parts to end up with a fuller ensemble. I'll have to try this to hear how human it will sound. It will be full and very interesting, but I'm afraid it may lose that human time imperfection. I'll love to have the opportunity to create an ensemble like that to see how I would approach that situation. I like making the impossible possible. I am talking about how to place the instruments and triggers to have a flow and be able to play what's needed and make it go somewhere and say something.
To me since percussion instruments are so many, it has to flow like one instrument. So I take my time organizing where to place them to go from one to the other without interruption in the flow, by adding the other sounds, it will be playing the samples, creating loops and adding the acoustic instruments to it. It would be a beautiful thing.
---
(*the next email*)
Dony - Since what we do for a living seems to be almost a dying art of sorts, what glimpses of your experience and your knowledge can you pass on here to give the younger novice players a glimpse into what will be required of them to be successful in our given fields? If this information is harsh, so be it. Would rather let them know the obstacles and pitfalls upfront, but lace it with a sense of hope and positive ideals. Something to help set themselves apart from the thundering herd of mundaneness, the quagmire of no sense of style that exists today.
Jose' - Well, to start, when i decided to spend my life as a musician I knew it wasn't going to be easy. I studied long hours and very hard. As a percussionist I made sure that I study all percussion instruments like Mallets, (Timpani, Marimba, etc)... and everything that you strike to get a sound out of. That helped me open doors when someone needed a percussionist, I wasn't limited to what I can play.
For example when I came to New York, my first audition was for Labelle. There were 175 musicians lined up to audition. Drummers and percussionists.
The musical director Bud Ellison asked me to play drums, then vibes, then timpani, congas and timbales. I played on all of them and he was very happy that i was able to do all these parts. I got called a week later and offered the job.
That's what i mean taking it serious.
Something else I do is, if I have any ideas to contribute to a musical piece, I go ahead and make a suggestion. Always speak up.
I've been on the road around 21 years. It's not easy, but you can make it what ever you want. You can take a wrong turn or you can stay on the right path. I am talking about the night life. If you remember why you are traveling and making music, which is to do what you enjoy doing more than anything else.
The road gives you an opportunity to meet people in the business that might be future contacts for work. Sometimes is who you know, but you have to be able to deliver what is asked of you and then you add your own personality to your parts. Always enjoy whatever is that you do. I have been Blessed with this talent. Traveling the world, doing what I love and getting paid for it is not bad.
With these programming and drum machines it was a little scary, but going back to the mallet instruments, like i was saying, as a percussionist having the training on many percussion instruments helps me stay afloat.
Dedication and honesty on your performance will take you places you wouldn't believe.
It's a wonderful life.
---
(*and the next email*)
Dony - As working musicians, we always have to plan and set goals for ourselves to improve not only as musicians, but as human beings. Jose', where do you see yourself professionally and personally five years from now?
Jose' - I am working in pre production for an instructional video aimed for children and the second half for already adult percussionists. That is one of the projects I will be involved with.
I am thinking of forming a group that will be an equal partnership between members as a band. I am thinking of a concept for that group. In 5 years I want to be doing what I love to do and that is performing, making music, producing different types of musical adventures. I would like to do more session work also.
In my personal life, is only one thing I hope that becomes a reality, and that is my family life. When you spend between 8 and 9 months a year on the road is not easy to maintain a close relationship with people that are important to you and that affects that other side of you that is as important as your professional life.
---
(*the next email*)
Dony - Jose', since you are a bona fide founding Malongo Brother, and since I am a proud member of this elite fraternal group, I must ask you this question, .......... are you scraping regularly?
Jose' - Times are different now. But, you know...
A Malango will always be a Malango
---
Dony - Guess what, my brother?
You is done.........
---
Ok. my brother.
Thanks for you being the friend that you are to put up with me. i know I had times when I took my time answering questions, but I think it worked out.
Your brother, Jose'
---
Jose', Pam,
Should be a doozy. And as far as the time spent, everything ebbs and flows of its own accord. Everything happens for a reason. I gave up questioning such things long ago. God has taught me to ride the wild surf and surf I do, .....daily.
Has been a pleasure digging beneath the surface and finding out what makes the Rossy tick. Safe travels. Be good.... to yourselves and others. God bless. Your Malongo Brother with pride, Jose' ........ Dony
THE END...., OR IS IT.....?